ادامه مطلب...


ba in soft mitonid be sorate mostagim tamame client haye cobra jabber ro download konid
ke shamele :
gajim-0.10+gtk-1
gajim-0.12-1
gajim-0.13-1
gajim-0.14.1-3
gajim-0.15-alpha1-1
vacuum_1.2.0
VVMessenger
trillian-v5.0.0.35
tlenwindows-7.0.2.1
saje
qutIM-0.2.0
psi-plus-0.15.5122
psi-0.14
pidgin-2.10.0
pandion
OneTeam
miranda-im-v0.9.32-unicode
jajc
digsby
Citron
AQQ
Nimbuzz


download dar edame
ادامه مطلب...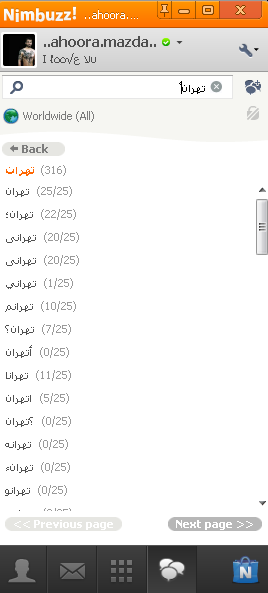 Nimbuzz PC lets you call, chat, swap files, and much more, on your PC. It combines all your buddies from Windows Live Messenger (MSN), Yahoo Messenger, ICQ, AIM, Google Talk and other popular IM communities. One login, one contact list, all accounts.
Save Money
: Make free international calls to your buddies. You can also register your VoIP account to call your friends on landlines and mobile phones.
Locate your Friends
: Retrieve the location of your buddies on a map. Great for arranging face to face meetings.
Make yourself heard
: If your buddies are offline, let them know you're trying to get in touch by sending them a "Buzz". It will start Nimbuzz Mobile on their mobile phone.
Manage your Contacts
: Use the Phonebook to back up or restore your contacts, and synchronize them with Nimbuzz Mobile. Contacts will be backed up online. Comes in handy when you have lost your mobile phone.
Get it!
- Just download, install, and connect your buddies from other popular IM networks.
Join Mobile Freedom
Download
: Download Nimbuzz to your computer.
Install Nimbuzz
. Open and run the setup application. It´s easy and we offer step-by-step assistance.
Create Account
: Then add your buddies from other popular networks.
Now you are ready for calls, chat and more with your buddies from Windows Live Messenger (MSN), Yahoo, ICQ, AIM, Google Talk and others.
Save money on international calls - Locate your friends on a map - Make yourself heard with the "Buzz" - Never lose your contacts.
One login, one contact list, all accounts.
Note:
Use IDM or Any Other Download Manager to Download Files From Ziddu, it's Support Parallel Download
Download:
http://www.ziddu.com/download/3109118/NimbuzzPC.zip.html
Password
: www.dl4all.com

Hello all this is coderboyz perfect room manager .
Featues i added in it :-
1. Chatroom chatting window .
2. Chatroom Userlist.
3. Xml debug window
4. Xml Console.
5. change subject .
6. change room pasw()rd.
7. you can join pasw()rd room also .
8. direct join with space id.
9. welcome message and auto message.
10. invite 6 Users in you room at a tym.
11. you can add any user in your id by add roster .
12. full owner control like.
Grant :- Moderator , Owner , Admin , Visitor , Kick , b4n , slap , none
13. Information window will inform you alwaz.
Hope you enjoying .
دانلود در ادامه
ادامه مطلب...
آخرین مطالب
<!items="10">